Post by dzdzdzzz on Aug 23, 2006 15:51:02 GMT -5
Hi!
I was googling [tm] for a PETSCII table yesterday and found this forum. I was both surprised and excited to find an apparantly quite active forum with people who know what they are talking about - targeting hardware that's decades old. Awesome!
First let me introduce myself. I'm a German living in Brazil, and i work as freelance software developer, nowadays working mostly with
Macromedia
Adobe Flash. My first computer was a C64, my parents gave it to me as a christmas gift back in 1983. I was 15 years old, and i remember typing in my first BASIC program from the user manual, under the christmas tree: FORITOA=1... I had no idea what hat meant, and my english sucked back then (it still does, but not as much anymore). Of course in the beginning i spent most of the time with my beloved toy playing videogames. This got boring eventually, and i started programming, first in BASIC, and later in ML. I did some nice stuff, like a sprite editor application. I was d**n proud, it was written in pure ML, and i didn't even have a macro assembler back then. It could do sprite animations - fancy stuff!

I think i was 17 when i custom built an 300 baud acoustic coupler and entered the world of BBSes. It was a big metal box with some big switches (to select baud rates) and volume controls. It had a 40ft serial cable, because my room was upstairs, and the phone downstairs. My parents were concerned, not only because back then in Germany, everything you connected to the phone, even an acoustic coupler, needed approval by the federal officials, it thus was illegal as h***, but also because of their phone bill. One month, when i discovered there was a multiuser (!!!) BBS in Munich, their bill skyrocketed above $100 and they shut me down. PAIN!
[update: i even found some (bad quality) fotos of it:]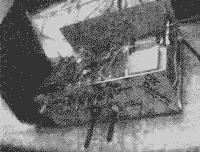 Later, i bought an Atari ST 520+ (freaking 1MB of memory! SICK! How would i ever be able to use all of it?) and learned C. Much later, i got my first PC and learned C++. Much much much later, there were the internets [tm], and i got into all that fancy ECMAScript and HTML stuff, and that's what i'm doing until today.
I'm actually writing this post because i'd like to introduce our latest creation, and like to hear your input. With a buddy of mine, i wrote the very first lowlevel C64 emulator for the latest Flash Player 9. Yes, the Flash Player.
It's called FC64, and it already works pretty well. There's still quite some stuff missing though, like.. cough.. sound (we probably won't be able to emulate SID in the Flash Player), sprites, and lores bitmap mode, and some timers, and tape/floppy emulation. But first games already work as is, like the old Llamasoft titles. Boulderdash also works. Under the hood it also features an assembler, a disassembler, and a debugger.
It got dug already, won two awards, and is on the way to win the third.
The best thing, it's all open source!
Here are the links:
Project homepage:
osflash.org/fc64/
Live demo:
codeazur.com.br/stuff/fc64_final/
(obviously needs Flash Player 9)
Digg:
digg.com/programming/Commodore_64_emulated_in_Flash_
Just for you, here's the trailer i did for the upcoming Flash Film Festival at Flashforward, a major Flash conference taking place in Austin next month (takes a while to load):
codeazur.com.br/stuff/fc64_final/flashforward/
Sound is fake, the rest is pure ML, showing off some features like raster IRQs, custom fonts, smooth scrolling.
Here's the ML source:
codeazur.com.br/stuff/fc64_final/flashforward/flashforward.asm
It's getting loaded and compiled into the emulator at runtime (don't look too close, i'm a bit rusty.. hehe.. but hey, it works!)
Tell me what you think.
Cheers!